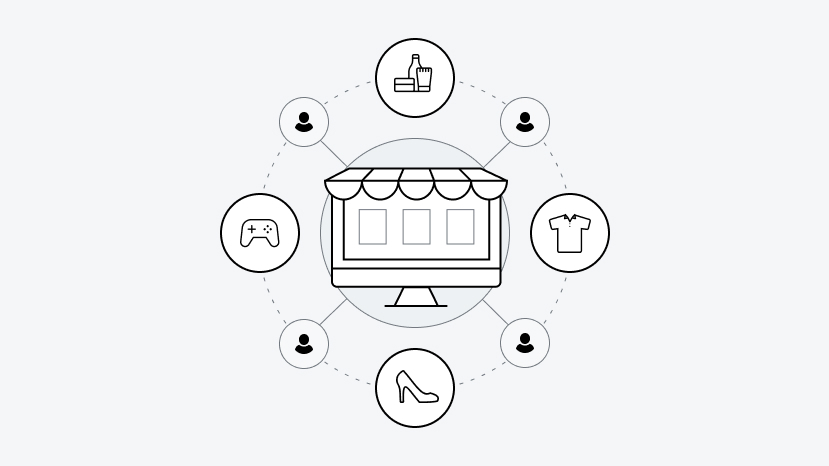 According to forecasts, retail e-commerce revenues worldwide are projected to reach $6.54 trillion in 2022. A stat that additionally corroborates this fact says that in March 2020, nearly 42% of the U.S. population purchased groceries online, compared to 22% in 2018.
This is great news for e-commerce entrepreneurs, but at the same time, this means that the competition is fierce. Because of it, mastering e-commerce management is essential.
What to Bear in Mind With E-Commerce Management
There are some factors you need to take into consideration in order to keep up with the ever-evolving trends and make sure that your e-commerce management is effective.
Staying ahead of the curve will help you attract and keep customers, and provide the best customer experience vital for the success of your business.
So, how do you manage an e-commerce website? These tips will discuss this question in detail.
1. Mobile Shopping Is on the Rise
Until recently, the main focus of the e-commerce industry was to achieve the same level of customer experience and personalization as bricks-and-mortar stores provided.
But, this has changed, and now online stores have a number of advantages over their physical counterparts. The ability to shop from any place and at any time is surely one of them.
Consumers spend a great deal of time on their mobile devices. They're becoming increasingly willing to make a purchase using their smartphone while surfing and digital window-shopping.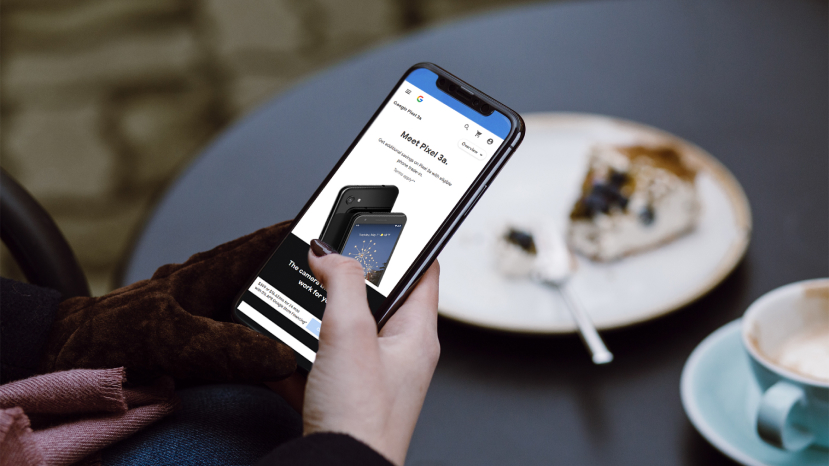 85% of people say that they expect a company's mobile website to be as good as its desktop version or even better.
Long story short, it's essential to have a mobile-responsive design that will work seamlessly across different screen sizes and resolutions. Otherwise, your customers will be annoyed by the pinch-and-zoom or fat-finger errors, and your user experience will suffer as well as your online sales.
Besides that, mobile-first indexing is enabled by default since July 2019. This means that Google will use the mobile version of a website for indexing and ranking purposes. That's how optimizing your website for mobile affects your SEO and your traffic – a mobile responsive website will score better rankings, and will, subsequently attract more visitors.
How fast your website loads is another crucial element responsible for positive user experience. Namely, as page load speed increases, the same happens to your bounce rate – if your speed drops from 1 second to 3 seconds, the probability that your visitors will bounce increases by 32%.
All these details will significantly improve your user experience and get your customers to come back again.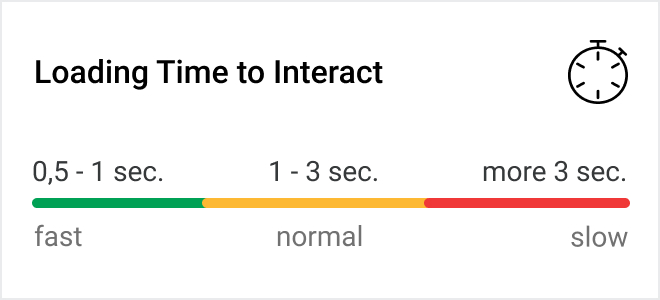 2. The Power of Personalization
Amazon and Ali Express are game-changers in the e-commerce industry, and taking a page from their book is a good idea.
Even though your budget might be smaller, and you can't splurge millions of dollars on advanced technological solutions and marketing to manage your e-commerce, what you can and should do is enhance the personalization.
While big companies leveraging artificial intelligence, machine learning, and big data analytics to raise the bar on customer experience and satisfaction, small businesses can use simpler tools and solutions for achieving the same purpose. In other words, since you don't have as much data as Amazon or Ali Express, you don't need expensive, state-of-the-art solutions in order to personalize your e-commerce store. But, it's important to know that you can achieve the same effect
Namely, you can still make sense of all the accumulated data about your store visitors from different sources and obtain valuable insights about your customers' interests, needs, and preferences.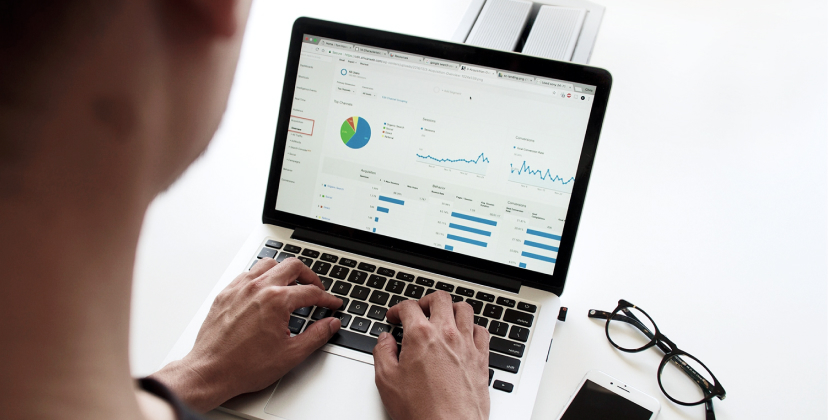 Amazon's proprietary recommendation algorithm shows product recommendations based on previous purchases, viewed products, similar products, complementary products, price range, and many other parameters.
But, this is no rocket science and you don't actually need a data analyst to set all this up. For example, you can link similar products inside your store, so that your customers receive an automated notification about related products or items that are used in conjunction with it. If you sell smartphones, protective cases or tempered safety glass protectors are products that your customers are interested in too.
You can also use all this data to notify your existing customers that their warranty is about to expire as well as that they will need a refill soon.
Similarly, you can set up seasonal offers and pair items that go together well, such as a swimsuit and sandals.
Pricing is another aspect of personalization that some companies implement. A dynamic pricing model means that customers are charged based on the current demand for a particular product, competitors' prices, or even whether they live in an affluent neighborhood.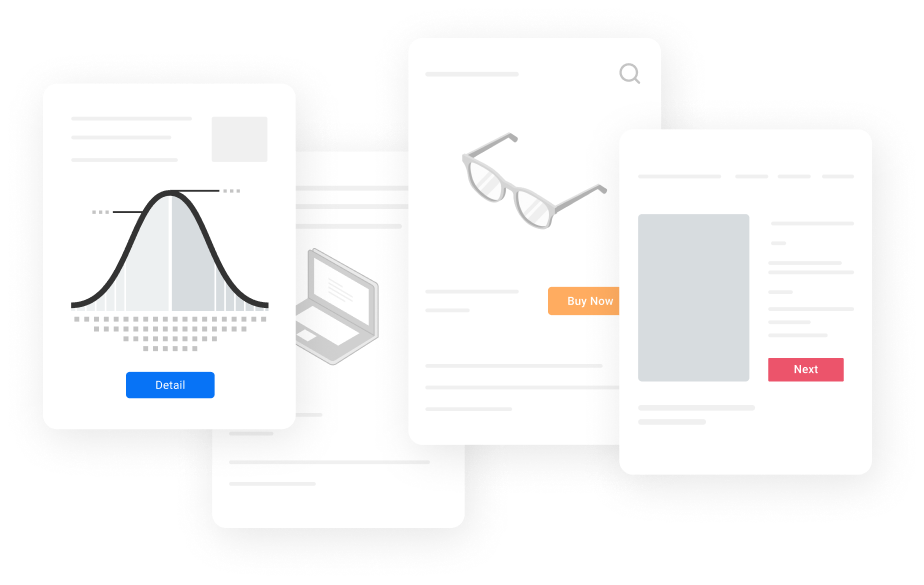 Here are some e-commerce personalization tips that won't break the bank:
Set up busy hours/days, and offer your customers to save some money by opting for less busy hours/days during which the delivery price is lower. This is particularly useful for grocery stores as they can prevent order delays and cancellations and ensure the positive customer experience.
Send automated "abandoned shopping cart" emails. As this is a huge e-commerce issue, you need to tackle it using different tactics. Sending an email to remind them about the items they left in the cart is a great way of encouraging them to complete their purchase. It's a good idea to offer a special discount and add customer reviews as social proof.
Cross-selling post-purchase emails. Use your customers' previous purchases to come up with personalized product recommendations. Offering complementary products or services is also a good idea. For example, if a customer has ordered a pair of trekking shoes, it's very likely that they will be interested in trekking gear too.
This way, it will be much easier for your customers to find what they're looking for and spend more in your online shop.
3. Supercharge Your E-Commerce Management with an Intuitive Admin Panel
Having an intuitive and well-organized admin panel is an important part of your online store.
There are too many tasks and endless to-do lists that can't be handled without an admin panel that allows your store manager to access and manage orders, shipping, payments, and inventory within a single dashboard.
Online store managers waste too much time on some mundane tasks, such as filling out all kinds of forms. For example, you can reduce their workload by connecting the backend of your store to the delivery service and enable prefilling of delivery forms.
Another way to make your admin panel effective is by having a convenient UI admin panel capable of handling and managing a surge of traffic and orders. This is how you can significantly reduce the order handling time and ensure that your store manager is efficient and productive, as well as your customers can order and receive their shipment in a timely manner.
4. Overcoming the Toughest Challenges in E-Commerce Management Using New Technologies
People want to see the product they're interested in, touch it, feel it, and try it on before deciding to make a purchase.
And all this isn't possible when they're shopping online.
For years, this has been one of the toughest e-commerce challenges, responsible for consumers' reluctance to order clothes, shoes, or pieces of furniture.
Sure, sizing charts can do the trick too, but only to a certain extent. Besides, they can't be used for cosmetics or furniture; neither can your customers see how a particular pair of shoes goes with their favorite dress.
Enhanced image technologies such as Augmented Reality can be used to bring your products closer to your audience and allow them to virtually try them on.
Here are some notable use cases of this technology:
Virtual fitting rooms. These VR solutions work by superimposing a picture of a garment or accessory within the live video of a customer. This way, customers can get a richer shopping experience as they can be sure that the product fits them.
Virtual makeup try-on. Several beauty giants, including Sephora, L'Oreal, and Maybelline, use this technology to help their customers pick lipsticks, eye shadows, and other makeup by trying on different colors and shades virtually. All they need is the brand's virtual mobile app and a webcam. This can also be used in-store to prevent traditional unhygienic makeup testing.
Furniture visualizers. IKEA, a Swedish furniture giant, allows its customers to pick the pieces that best fit into their apartment. With the help of the IKEA Place app, it's possible to scan a room and choose a product. The app will then place a true-to-scaled 3D model in the room and show how it looks like in that particular environment.
Luckily, there are much simpler but equally effective and functional solutions for small businesses whose budgets don't allow for fancy technological innovations.
Some of them are:
Product configurators. Allow your customers to build a customized product by picking different colors, fabrics, and features. Stand Up Speak Up Apparel is a great example of this as their customers can use their color configurator to pick the color of their T-shirt.
360-degree views with rotation. This is a simple, yet very powerful option that enables your visitors to see a product from different perspectives. Similarly, a zoom feature is a great addition as it provides a closer look into the fabric and texture. Roots, a Candian brand selling apparel and leather goods, showcases their product with the help of 360-degree view and zoom.
Micro-interactions within your configurator to show customers that it's working. Check out this cool animation on RememBear's lock screen. Their bear mascot is watching while the user enters the password and nods if it's correct, thus transforming a usually boring action into something fun.
Gamification is excellent for customer engagement. This video-game principle can be used to create innovative interactions, such as Spin the Wheel – a feature that encourages your customers to spin the wheel and receive freebies and rewards. Sand Cloud takes this practice to the next level. When a website visitor moves their cursor with the intent to close the page, the spinner pops up and offers them to try out their luck and receive a discount.
Leveraging innovations and new technologies isn't something that only big companies can pull off. With a couple of clever web design tricks, you can make your online store attractive and showcase your products in the best possible light.
5. Optimized Content Shouldn't Be Neglected
In this case, the term "content" refers both to actual blog posts, videos, and other resources on your e-commerce website. Product pages containing descriptions and images are also considered as "content" .
Your website content should revolve around educating your customers and helping them solve their issues. Create different types of content whose primary goal shouldn't be promoting your products or services, but supporting your customers during their buyer's journey.
A great example of this is Pilot Coffee Roasters. This company specializes in coffee and brewing gear and in order to help their customers make a perfect cup of coffee using their blends, they have an entire section dedicated to how-to guides and videos for different brewing methods, as well as a coffee cupping guide and recipes.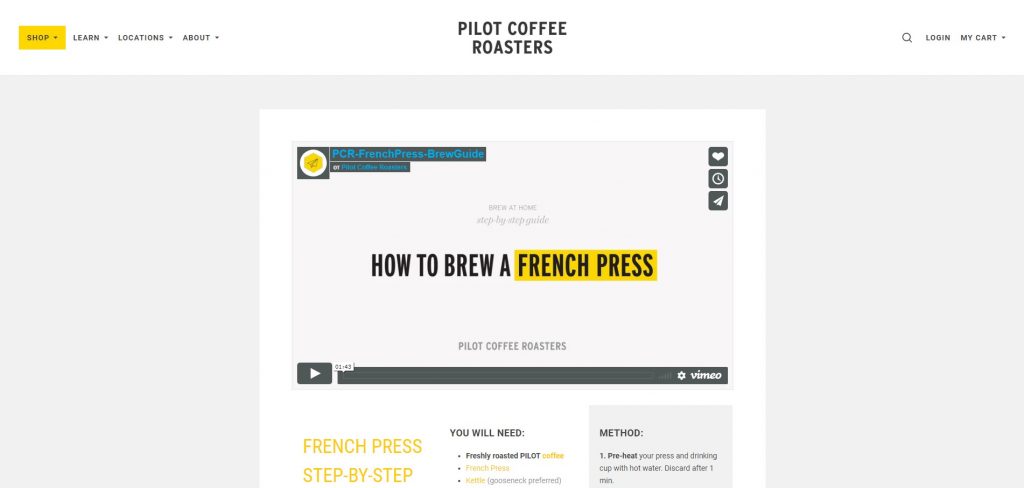 Similarly, another beverage company, David's Tea, offers highly relevant content that their customers can use in order to make, for example, tea, iced tea, or tea latte.
Unlike ads that can be disruptive and too pushy, this kind of educational, informative, and entertaining content is much more enjoyable for your potential customers. You don't interrupt their YouTube or Facebook videos with your ads, but smoothly attract them to your website by sharing high-quality content that can help them overcome a certain obstacle, or help them learn how to do something.
This means that your content should address their pain points, interests, and needs, as well as offer answers to the most common questions.
As we're talking about sales here, it's worth mentioning that ranking higher than your competitors in Google search is a make-it-or-break-it factor and can significantly affect your revenue.
Enter search engine optimization (SEO), a marketing practice that can help you boost your online store rankings and bring you a lot of high-quality traffic.
Before listing several critical tips for improving your e-commerce store SEO, it's important to highlight that this strategy takes time to bring results, as well as that it's best to hire an e-commerce management agency to handle your marketing activities.
Do keyword research. This is one of the most important steps in the entire process, which is why you should leave it to professionals. They will pick the best keywords for your e-commerce website and find a way to implement them naturally in your content, product pages, and other relevant places.
Make sure that your website structure is simple, scalable, and easy to navigate. There are different platforms you can choose from – WordPress, OpenCart, or any other open-source platform, and it's possible to build a tailored solution that's easy to manage and update.
Do your on-page SEO right. This means that you should place your keywords strategically across all your web pages, thus helping Google (and your customers) understand what every particular product page is all about. On-page optimization requires implementing relevant keywords in the URL, title tag (H1), the body of the copy, image alt text, meta titles, and meta descriptions.
Perform website health audits regularly. If your e-commerce website is well-structured and technically sound, Google will be able to crawl and index it properly, which is crucial for your rankings. Other aspects of a website health audit include improving your loading speed, fixing duplicate issues, and adding structured data markup to your website, to list just a few tasks. 
Search engine optimization is a crucial factor that will place your e-commerce store right in front of your potential customers' eyes and improve its search visibility.
6. Your Checkout Process Matters the Most
After all the hard work you've put into attracting potential customers, as well as educating and engaging them, they finally find a product they like and want to purchase.
That's great, but they can easily abandon the product and leave without completing the checkout process.
This is the worst-case scenario, but it's very common. According to the Baymard Institute, the average shopping cart abandonment rate is almost 70% across different industries.
Numerous culprits are behind this underwhelming statistic, but it's good to know that you can do something to improve these numbers.
Facilitate and streamline your checkout process. The same source identified that the too long and complicated checkout process is to blame for 21% of those who abandon their shopping carts. The trick is to keep it simple, don't ask for unnecessary information, and display a progress bar.
Offer different payment options. If you allow your customers to pay only using their credit cards, you're going to lose numerous business opportunities. Many people prefer alternative payment services such as PayPal, Apple Pay, or various eWallets, so make sure to add those to your list of accepted payment methods.
Display trust signals throughout the process. Let's not forget that customers are supposed to share their sensitive information with you, which is why they need all the assurance they can get that it won't be compromised. By displaying trust badges, you can encourage them to provide their credit card details and complete a purchase.
Keep the shopping cart open. One of the most annoying things that can happen during the checkout is starting the entire journey all over again just because you wanted to add one more item to the cart. Allow your customers to keep everything they have already put in their cart, and add whatever they want without having to go back to square one.
Pay special attention to your checkout process because it's what can potentially discourage your customers from making a purchase.
7. Chatbots Can Improve E-Commerce Customer Relationship Management
Customer experience is about to overcome product and price as the key brand differentiator, and that means you can't afford to have poor customer support.
Since your customers already have an opportunity to make a purchase after your regular business hours, on the weekend, or at 1 a.m., it's only logical that you should have 24/7 support. And since hiring additional reps to work different shifts is very costly, implementing a conversational chatbot can be a safe and cost-effective bet. Given that people need help during shopping, these smart algorithms will streamline their decision-making process.
However, this strategy can work only if you get it right. Although chatbots are all the rage at the moment, you shouldn't use them on your e-commerce website just for the sake of it. They need to be carefully implemented, and it's crucial to monitor your audience's feedback.
For example, having a chatbot in your FAQ section is a convenient solution for answering your visitors' most frequent questions by directing them to relevant web pages and providing the right resources.
You'll also eliminate one more friction point – long waiting time, and offer your customers a timely response. Chatbots can handle multiple queries simultaneously, which is excellent for customer experience.
As chatbots are by no means sophisticated enough and capable of handling queries that require critical thinking, it's crucial to allow your customers to get in touch with support reps.
So, these algorithms can help you save money, improve your customer service, and boost your conversion rates. Just don't count on them to replace your support reps and make sure they're properly implemented.
Some of the best use cases of chatbots in e-commerce, apart from answering questions and providing information, include:
Helping visitors find products. Save your customers' time by allowing them to tell you what they're looking for. A chatbot can display a carousel of products that meet their criteria and let them purchase right on the spot. Levi's makes a great job this practice with their Indigo bot.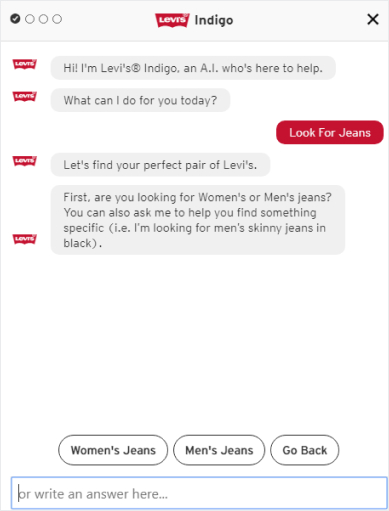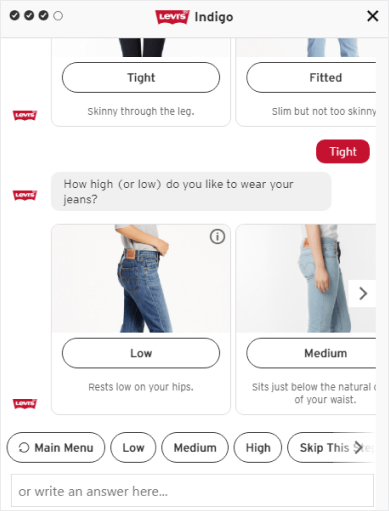 Upselling products and services. Chatbots can identify your visitors' preferences and interests, and recommend products and services of superb quality. Although these goods are more expensive, they will serve your customers much better than their more affordable counterparts.
Handling transactions. As we've already mentioned, a complicated checkout process can scare your customers off and get them to abandon their shopping cart. Transactional chatbots can speed up this process by accepting payments and allowing customers to complete transactions without redirecting them to different pages. AmTrak's chatbot Julie helps customers find the shortest routes to their desired destinations and book tickets.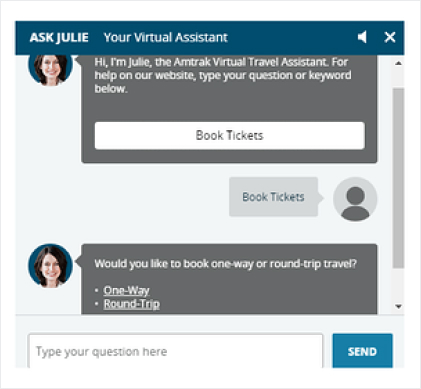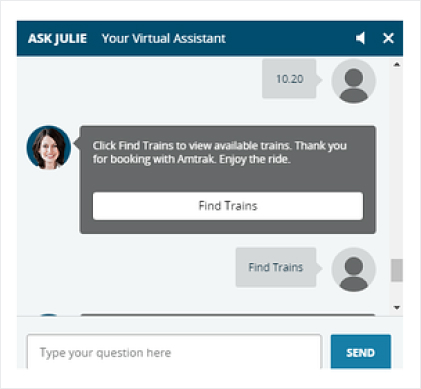 Displaying offers. When you want to promote discounts and special offers, chatbots deployed on messaging platforms, such as Facebook Chat, can be very effective. As people spend a lot of time on social media, they're likely to see your instant message and check out your offer. MobileMonkey leverages chat-blasting their contacts on Facebook Messenger regularly. These campaigns generate a 70-80% engagement rate.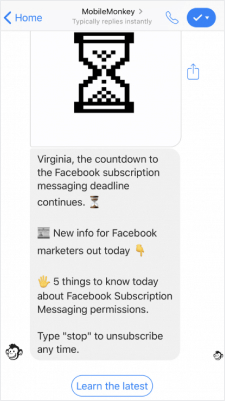 A chatbot can be a useful addition to your overall customer support strategy. Don't expect it to replace your human service agents and take over some complex queries. But they can pick up the slack when it comes to some technical, repetitive tasks.
An effective e-commerce management strategy is essential if you want your online store to run smoothly and generate revenue.
Understanding your customers' needs and using them when building and managing your online store is something that you shouldn't take lightly. On the other hand, making your store manager's job easier is another aspect that you should take into consideration.